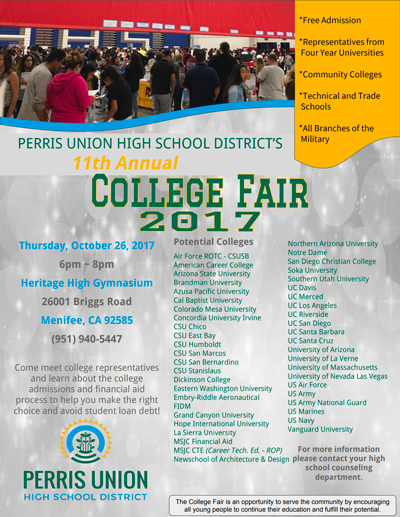 PERRIS UNION HIGH SCHOOL DISTRICT'S 11th Annual College Fair
Come meet college representativesand learn about the college admissions and financial aid process to help you make the right choice and avoid student loan debt!
Free Admission
Representatives from Four Year Universities
Community Colleges
Technical and Trade Schools
All Branches of the Military
The College Fair is an opportunity to serve the community by encouraging all young people to continue their education...... Read More

Please be advised that Perris Union High School District (PUHSD) is aware of the internet posts, which appear to be a nationwide hoax, having to do with clowns. Some posts state that clowns will be coming to schools and causing harm. We are working closely with the Riverside County Sheriff's Department in an effort to put our students and school community at ease. PUHSD in conjunction with the Riverside County Sheriff's Department and School Resource...... Read More
Los padres que volverán a inscribir a los estudiantes actuales de CMI puede utilizar el Campus Infinito proceso de registro ( IC ) Febrero 25 de - 1 de Marzo de 2016. El proceso de IC es un proceso simplificado para devolver solamente los estudiantes. El vínculo no estará disponible hasta el 25 de febrero.
La inscripción para estudiantes de legado es el 22 de Febrero - 26 , 2016. Todos los estudiantes que regresan deben registrarse durante este tiempo para asegurar el lugar para el...... Read More
The mission of the Perris Union High School District is to provide quality educational programs and meaningful opportunities which encompass the intellectual, social, emotional, and physical aspects of all students within the district and which will enable them to become productive members of society.